غير متوفر
مرر الماوس لتكبير الصورة
Click to open expanded view
Logitech G513 RGB Backlit Mechanical Gaming Keyboard with GX Blue Clicky Key Switches (Carbon)1
ر.س606 شامل الضريبة 15%
لوحة مفاتيح RGB عالية الأداء مزودة بإضاءة ملونة كاملة قابلة للتخصيص لكل مفتاح بالإضافة إلى ألوان وتأثيرات الإضاءة المبنية على اللعبة من LIGHTSYNC
مفاتيح مفاتيح ميكانيكية متقدمة GX Blue مزودة بتعليقات النقر باللمس التي يمكنك أن تشعر بها وتسمعها مع كل ضغطة مفتاح
مسند راحة اليد ناعم وقوي مسند راحة اليد للراحة والمتانة الفائقة التي تقاوم العرق وتنظيف المسحات
غطاء علوي مصنوع من سبائك الألومنيوم المصنّعة من فئة الطائرات للحصول على مظهر راقي يختم المكونات مع حماية متينة
يجعل منفذ USB المريح مناسبًا إمكانية توصيل الماوس أو محرك الأقراص المحمول أو الهاتف بنقل البيانات المباشر أو الشحن
A MATERIAL ADVANTAGE
Get an edge in your gameplay with the Logitech G513 mechanical gaming keyboard. Three available switches, Romer-G Tactile, Romer-G Linear, and GX Blue, let you have the optimal feedback that you feel right for your play style. You can have dazzling RGB lighting effect that is in response to your game, audio or screen. A soft palm rest made of durable, sweat-resistant materials delivers the comfort ready for extended gaming sessions. Premium aluminum-alloy construction can withstand the frenetic presses and moves during those gaming sessions. Built-in USB passthrough port provides easy-to-reach convenience and uncompromised data transfer speed. Easily control media and lighting with the FN key after programing using the Logitech G HUB software.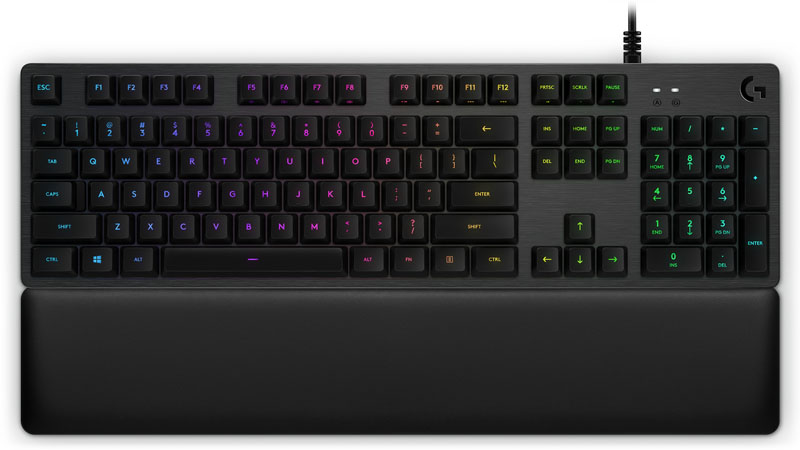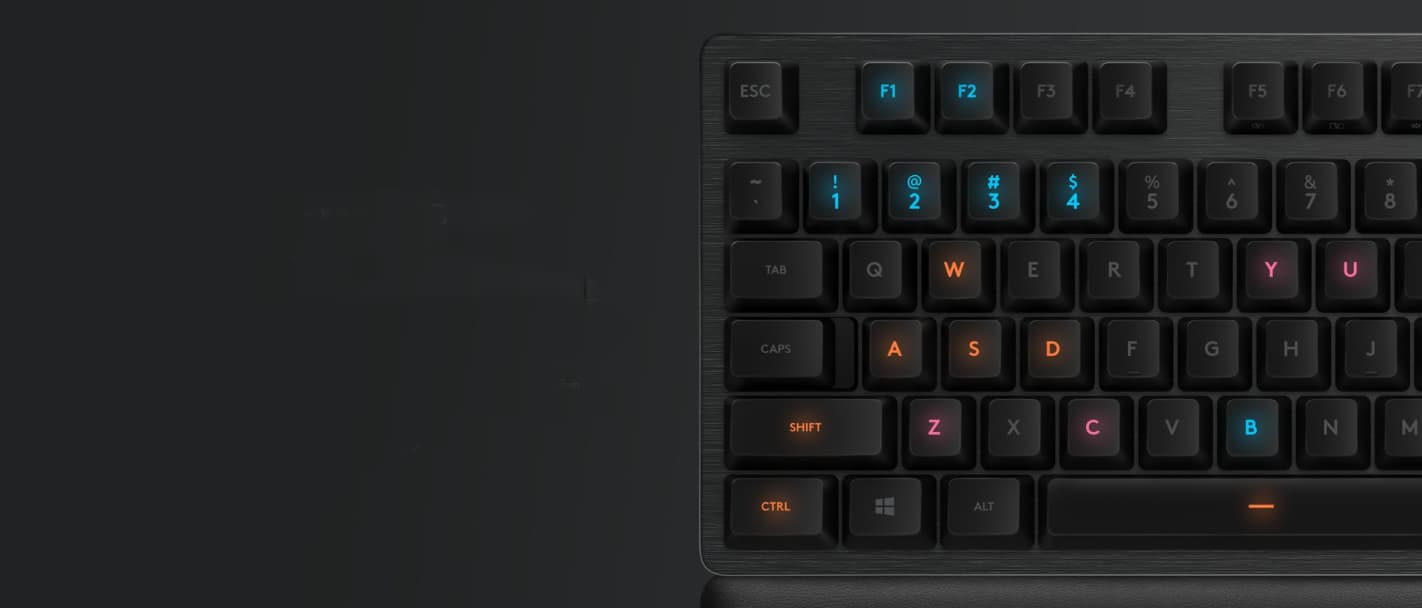 LIGHTSYNC RGB
G513 can be customizable per key with approximate 16.8 M colors. Create your own animations or choose from a selection of preset effects. And with LIGHTSYNC technology, lighting is driven by games, audio, or your screen to deliver the most immersive RGB experience ever.*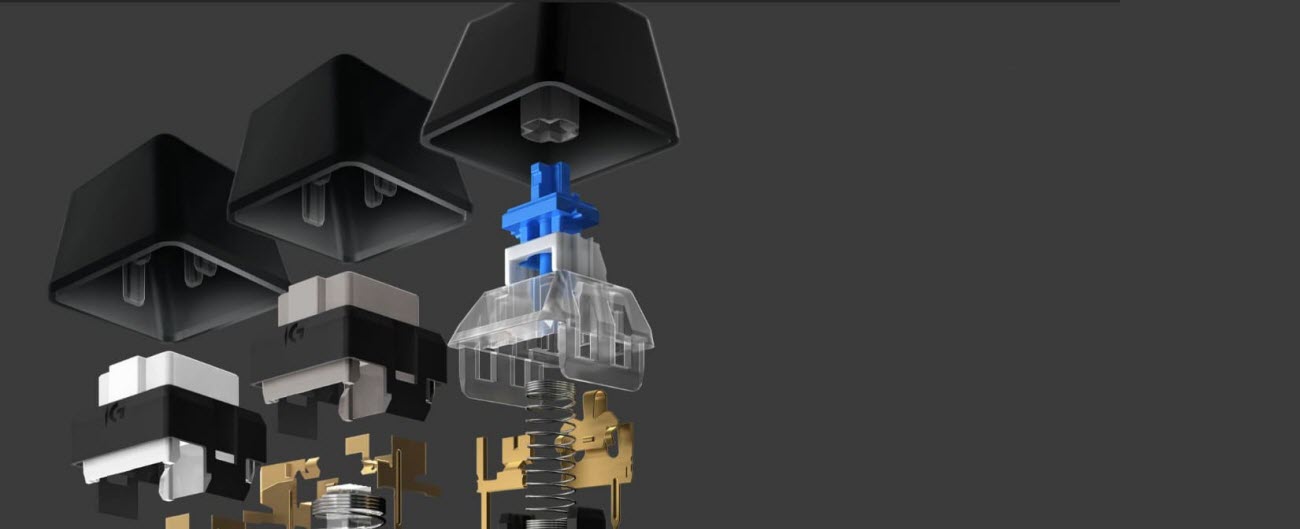 CHOICE OF MECHANICAL SWITCH
Choose from three distinct mechanical switches: Romer-G Tactile, Romer-G Linear, and GX Blue. Romer-G Tactile is the original Romer-G profile and provides a discernible actuation point you can feel. Romer-G Linear features a smooth keystroke. GX Blue is an iconic design providing both tactile and clicky feedback with snappy actuation you can feel and hear. All switches are tested and rated for a 70 million click lifespan to be reliable and durable.

PREMIUM COMFORT
The memory foam quickly and fully recovers from pressure, so every use is as comfortable as the first. Soft, strong and durable leatherette wraps the comfort foam in a waterproof and sweat-resistant material that easily wipes clean. Six bottom-mounted rubber feet keep it firmly in place. This palm rest is ready to game.
AIRCRAFT-GRADE ALUMINUM ALLOY
G513 is crafted from incredibly strong and durable 5052 aluminum-magnesium alloy which allows for both a minimal design and a beautiful aesthetic. The rigidity of 5052 alloy also provides a sturdy, non-slip chassis that houses a full suite of features for an unbeatable gaming experience.

USB PASSTHROUGH
Convenience and speed are directly within reach. The additional, dedicated USB cable connects the USB passthrough port to its own input for full power throughput and data speed. Plug in a device to charge or plug in a mouse to charge your adversaries, without missing a beat.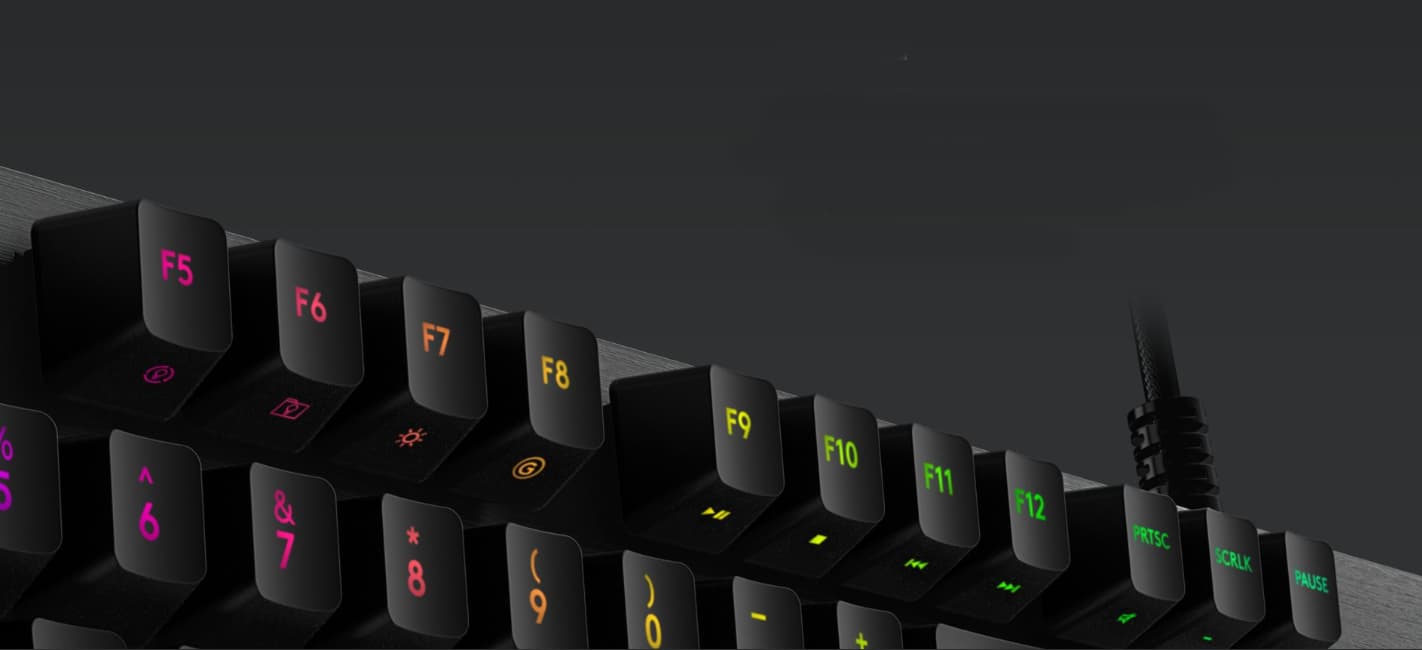 FULL FUNCTION KEYS
Media and lighting controls are right at your fingertips. Use the FN key to control volume, play and pause, mute, toggle game mode, change lighting effects, etc. Use the FN toggle feature in Logitech G HUB and configure your function keys to perform these alt commands by default.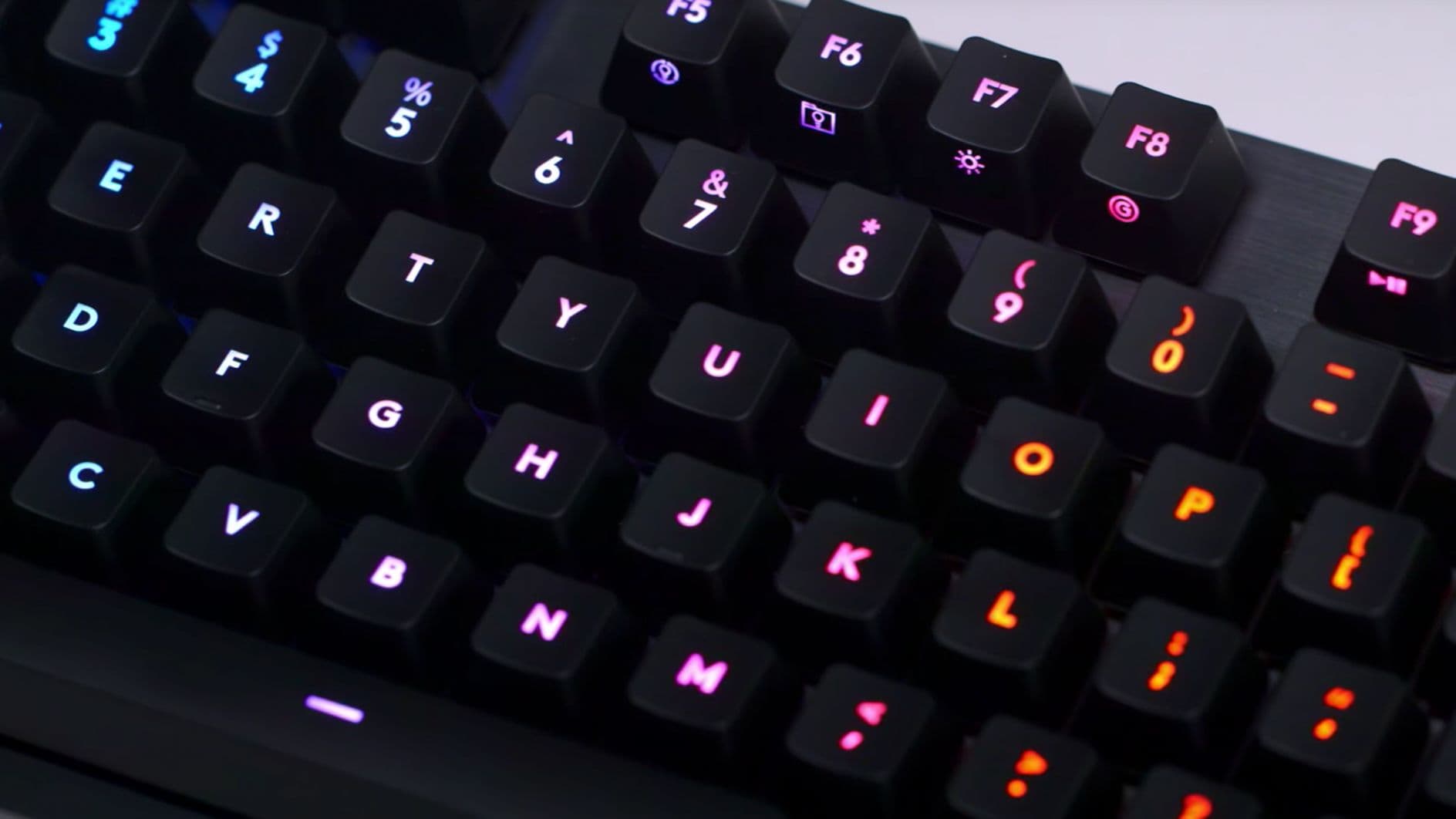 DEDICATED GAMING FEATURES
Don't lose a game because you fat-fingered the Windows key. Toggle game mode with FN+F8. Deactivate additional keys using Logitech G HUB. Store per-key RGB lighting profiles in the onboard memory for use on any system.*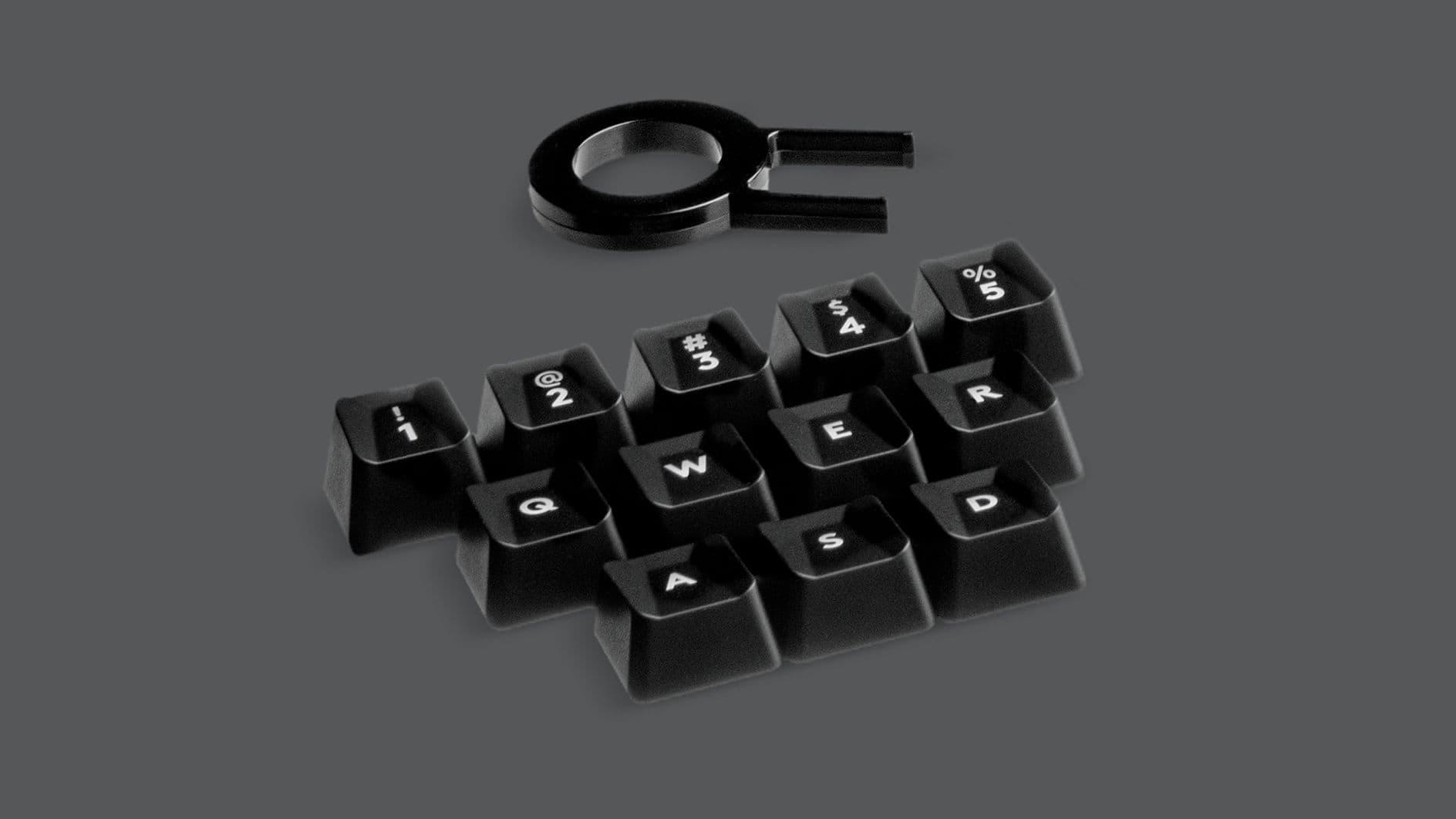 GAMING KEYCAPS
12 additional keycaps come with G513, so you can upgrade critical gaming keys to be as heroic as your gameplay. Swap them fast and easy with the included puller to remove your Romer-G keycaps.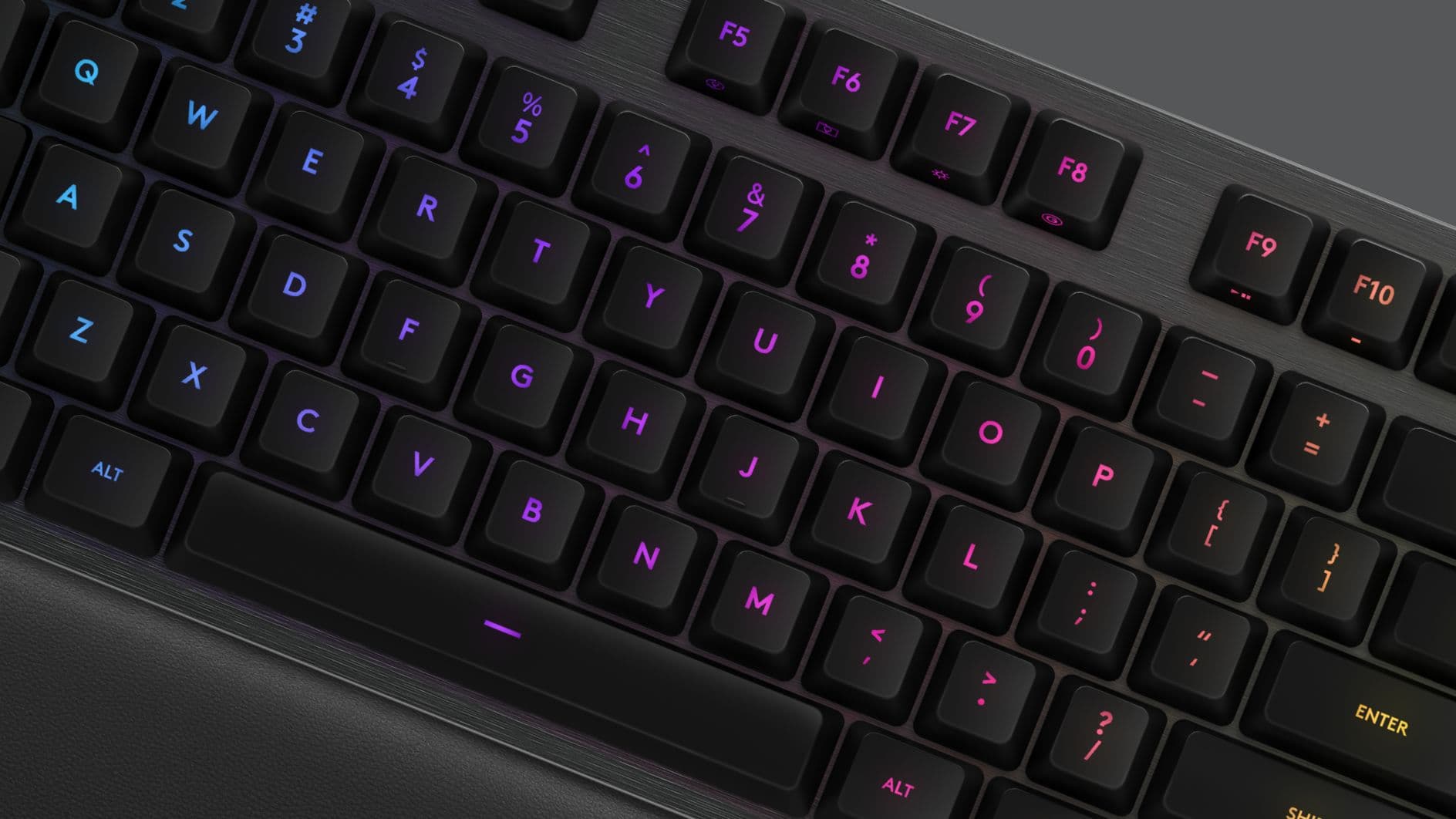 26-KEY ROLLOVER AND ANTI-GHOSTING
Press multiple keys simultaneously in any order and get exactly what you intended with 26-key rollover.
Performance-tuned anti-ghosting gives you reliable control when multiple gaming commands are given simultaneously.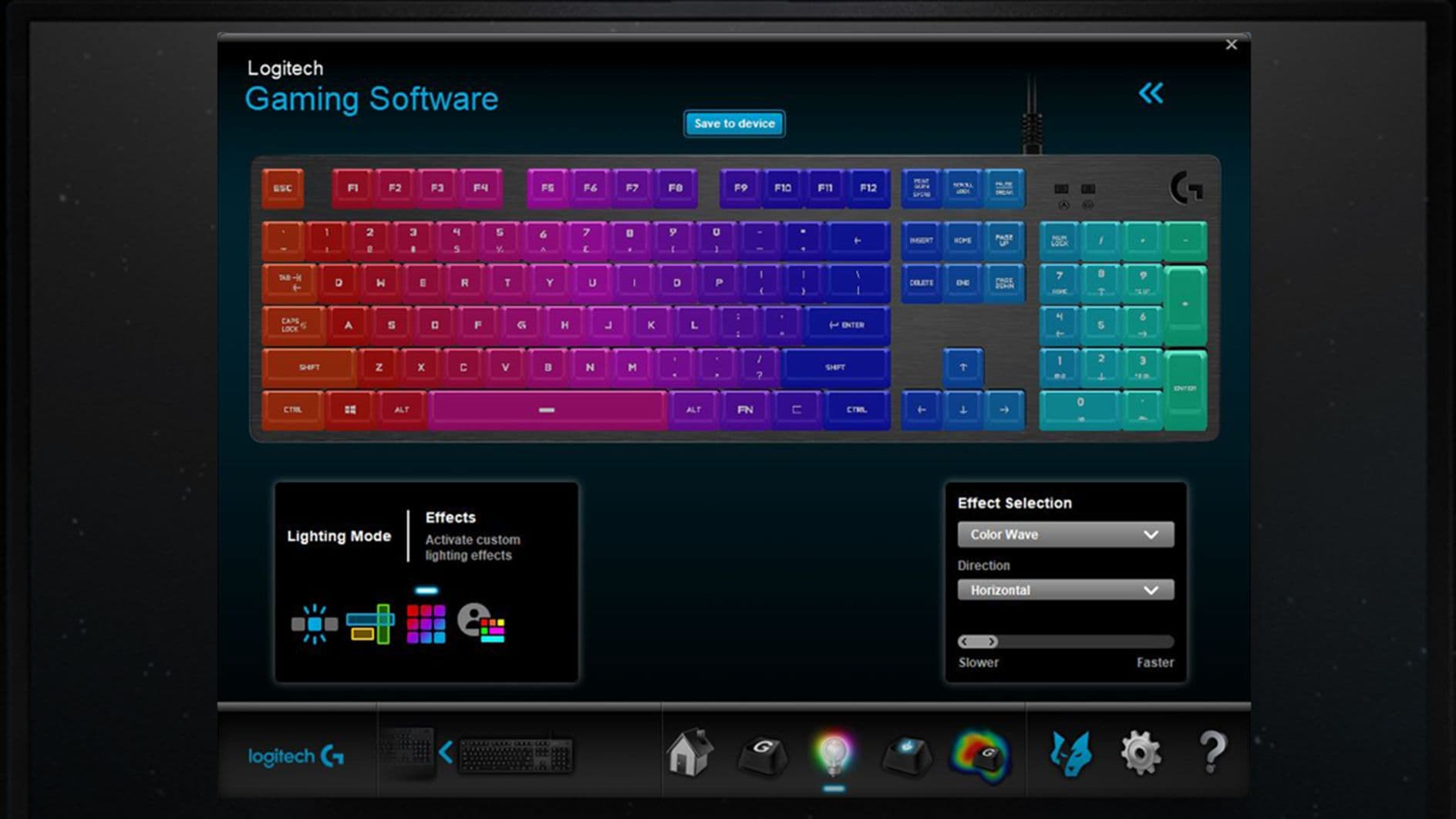 PROGRAMMABLE MACROS
Use Logitech G HUB to program custom functions and macro commands on F1-F12 buttons. Make your gaming life easier. Execute complex commands, or unleash a timed series of actions or spells with the press of a button.